Stilübung DEATH METAL
"Wir hatten mit etwas mehr Power gerechnet ... Du kannst das bestimmt, aber das klingt zu sehr nach deiner Komfortzone ... und nich' wirklich nach Metal." (Apex)
TROLLEY CAR DEMONS
Komposition und Instrumente: Mors Cordis
Interpretation: Susanne Franzmeyer, Apex (Mors Cordis)
Songtext
Him
How old is she? Maybe 17
Her appearance sweet, intention mean.
She'll put her spell on me
I can feel her demon's here, and she
is stuck with me in this trolley car
Her body is close, her soul is far
I smell the demon's icey breath
It feels so fresh, but means death
Refrain
Trolley car demons, trolley car demons
try to eat my soul
Trolley car demons, trolley car demons
want me to lose control
Her
You fat old creepy guy!
You're staring at me – why?
I'm stuck in this damned cage
It makes me fly into a rage.
Him
We're lost in time and space
Is it four PM or eight?
Her white stockings, her skirt
Hide that her bite would hurt.
Her+Him
And then another damned soul
Appearing like a lady
Is screaming frantically and loud
As if she had gone crazy
Refrain
Bridge
Trolleycar twenty-three
Is an evil place to be
Demons don't pay no fee
Evil company's for free
Demons! Demons! Strenghten your malice Demons! Demons!
Demons! Demons! The trolley car's their palace Demons! Demons!
Him
What the hell is rumbling?
Can't hold myself, I'm tumbling
I didn't want to touch her
This eerie damned soul catcher!
Her
You creepy beardy creature!
And this lady's weard screecher!
Im counting – one – two - three
Horror pulls me away.
Refrain
Her (gesungen)
I'm searching helter-skelter
For any kind of shelter,
I'm wobbling into nowhere
And don't know where to go there
The creepy demon's gone
But I still feel so numbed
O darkness swallow me
The curse is gone – I'm free
Bridge
Trolleycar twenty-three...

Refrain
Him (gesprochen)
I found her back in town
I was crawling at the ground
To the market place café
There she was and there was me
Another demon with dark fur
Was sitting closely next to her
And when she lowered her eyes
I could feel their power raise
Her
(gesprochen)
Goodness, I see him
In the darkness he is creepin'
Him
Again! The vicious demon!
No, please let me be dreamin'!
She's not wearing the skirt,
Jeans and sneakers are stained with dirt
Refrain

HIER GEHT'S ZUM YOUTUBE-VIDEO: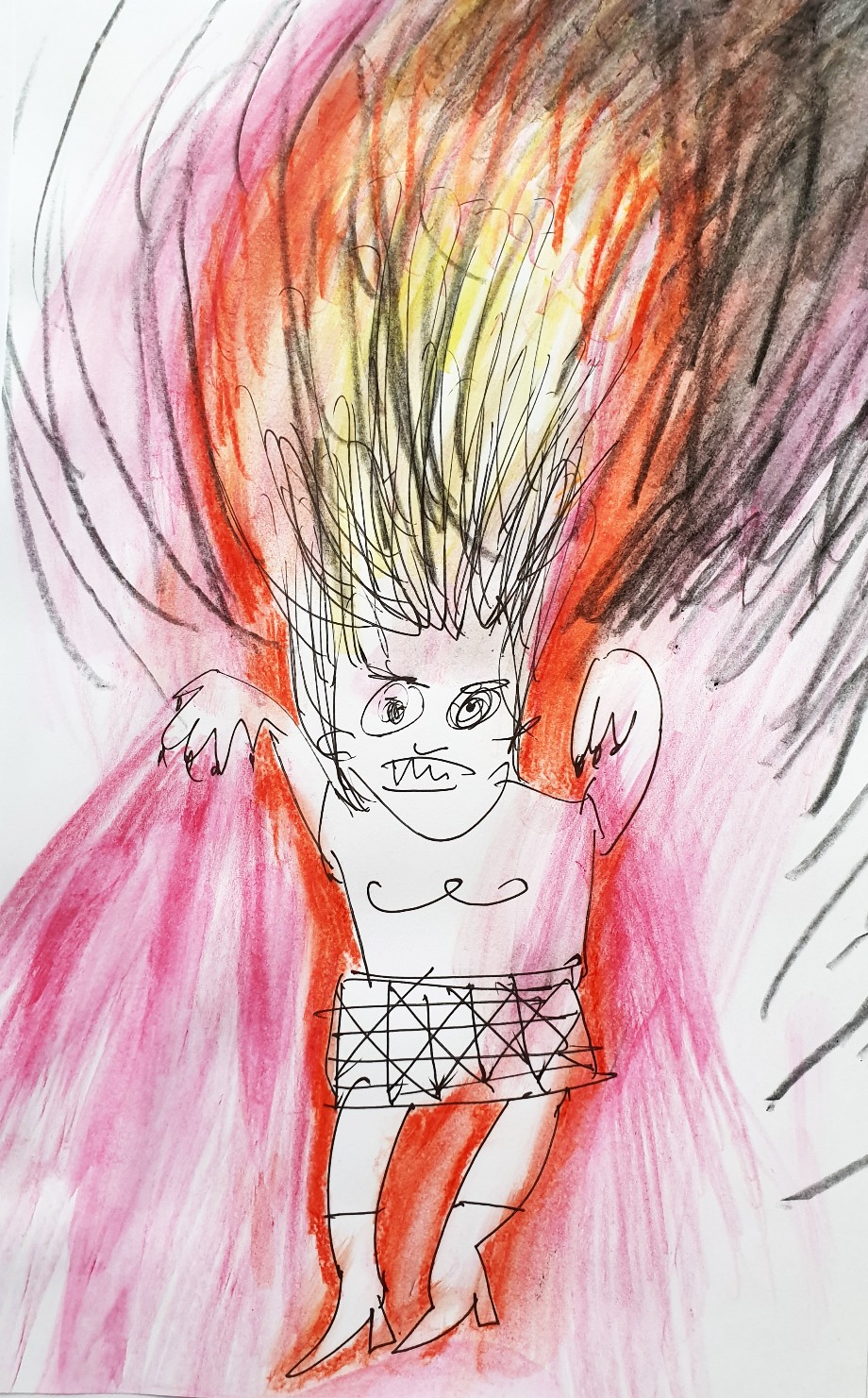 UND HIER ZU DEN ANDEREN SONGS: